STAFFER hosts a Roundtable Session on Skills and Youth at SIFER 2023
28 March 2023
STAFFER had the pleasure of hosting an insightful roundtable discussion at SIFER 2023 in Lille on the topic of Skills and Youth and the challenges faced by the rail sector. The panel was moderated by Ana Cláudia Manuelito, UNIFE, Public Affairs Manager and we were privileged to have Ludovic Vermeulen from Association Ferrocampus – Ecosystème de l'Excellence Ferroviaire, Wendolyn Padilla from Alstom and Barbara Grau from SNCF as our speakers.
During the discussions, we focused on the skills needed for the twin transition, and how traditional skills and technological developments are interlinked. The rail sector has several interesting initiatives to attract more people, including young people and women. Member States and EU institutions have a particular role to play in helping to deal with the challenges faced by the sector, and calls for more coordination and financial support to achieve the objectives were made.
We were proud to present the STAFFER project as an example of how we are delivering to identify the right profiles and skills of the future and adapting the curricula to match the needs of the rail sector and educational providers.
The speakers highlighted the importance and benefits of the rail sector in promoting green and digital transitions, emphasising the need to prioritise these aspects in attracting more professionals. They also emphasised the significance of promoting the sector among students and young people by explaining its role in decarbonizing economies and striving for policies and initiatives that promote gender balance and diversity. The discussion also revealed the need for the rail sector to collaborate more at the national level to create more academic opportunities for aspiring rail professionals.
We were thrilled to have such insightful speakers and a lively discussion on skills, youth and the challenges and opportunities for the rail sector.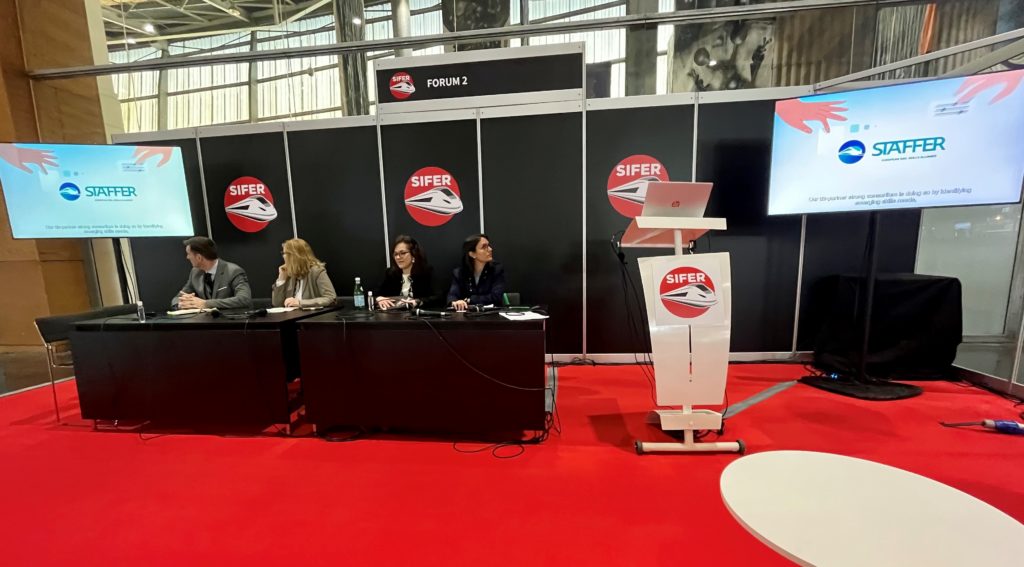 Back to news